Knowing Which Butter to Use
It is common knowledge for everyone who works within the hotel, restaurant, bakery, and catering business that choosing the right butter is important. Understanding the properties of different types of butter, including taste, content, and the melting point will help you determine the best butter to suit your needs. A good food distributor will tell you that cost efficiency should be considered without compromising on quality. Armed with 30 years of experience as a butter distributor in Bali, Puri Pangan Utama is determined to provide you with the best solution for your butter needs. Our varied butter range includes the following: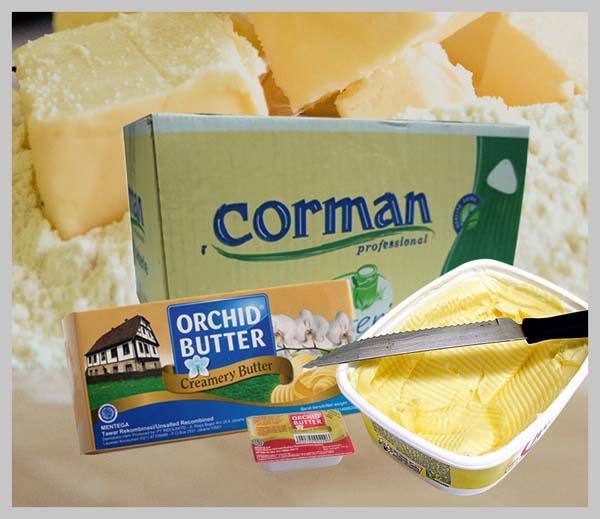 For Croissants & Puff Pastries – Corman Butter
The secret to creating the perfect layers is to use butter specifically designed for croissants and puff pastries! The following butter that we suggest is extremely easy to work with due to its elasticity, so your folding process will be a breeze.
Corman Dairy Butter Sheet 82%

Tasty
Easy to work with
34oC melting point
Perfect for all layered dough (e.g. croissants, puff pastry and danish)

Corman Concentrated Butter Sheet 99.8%

Rich taste from 99% milk fat content
Extra easy to work with
36o C melting point
Perfect for all layered dough (e.g. croissants, puff pastry and danish)

Corman Patisy

Mixture of butter and vegetable oil
Extra easy to work with
Economical options without compromising on taste
38oC melting point
Perfect for all layered dough. (e.g. croissants, puff pastry and danish)

Corman Premior

Premium margarine sheet
Superior buttery mouthfeel
Perfect workability
42oC melting point
No hydrogenated fat, No GMO, low trans fat
For general cooking and baking purposes
In this case, we would suggest looking at unsalted block butter from the following range:
Corman Dairy 82% 10 Kg: Great tasting butter perfect for layering or incorporation.
Dairygold butter 25 Kg: Dairy block butter perfect for cooking or bakery purposes.
Australian Butter 10 Kg: All-purpose unsalted butter
Corman Patisy Block: Great tasting mixture of butter and vegetable oil block.
For those without chiller or freezer
Consider using nonchilled butter:
PI-3 AMF 25 Kg

Strong natural butter flavor
Aromatic and fragrant
Perfect for biscuit, cakes, pastry and bread
Should you have further questions, our sales specialists are ready to help you find the most suitable butter for your application. Contact us now to have your butter supplier sorted.
Baca versi Bahasa Indonesia dari blog ini di sini.