Christmas Recipe: Potted Smoked Salmon
It's almost that time of the year! Christmas is one of the most anticipated holidays of the year. It's a time of joy, celebration, and congregation with our loved ones. As the host, one of the best ways to welcome your guests is by impressing them with one of your homemade cooking! As a starter, the iconic potted salmon is an excellent choice to serve for your guests – not to mention healthy and fits the holiday season just right.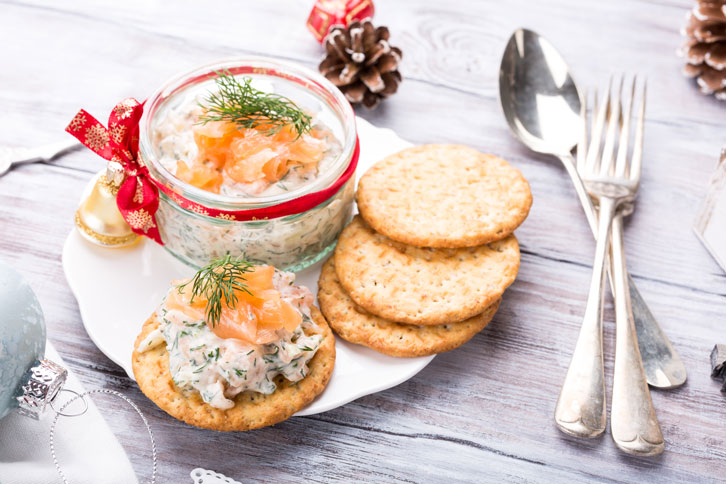 We'll be breaking down this recipe so that you can master it and add it to one of your lists of homemade recipes.
Initial preparation
Before we got to the juicy salmon, it is best to prepare your tools first. For this recipe, you'll be needing a few Kilner jars to serve as a container for your potted salmon – a set of 4 to 6 jars at 200ml each should be enough. Make sure to wash them beforehand with warm soapy water.
After they are clean and dried, you can proceed to grease the insides with your favorite choice of butter. For this, you can grease them by rubbing the butter directly on the insides of the jar or use your fingers to do it manually.
Preparing the butter and salmon
Now that you've got your set of jars ready, it's time to prepare its contents.
Start by melting unsalted butter in a small pan with low heat for about 8 – 10 minutes. You'll want to observe the color of the butter until it turns slightly darker in shade, and the white milk solids rise to the surface. You'll also want to filter the butter further by pouring it into a jug through muslin to catch any remaining milk solids. This filtered butter is what you will be pouring later onto the salmon flakes.
We have an assortment of butter selection for you to choose from here in Puri Pangan Utama.
Next is to cook the actual salmon! For the number of jars that we are cooking, you should have around 400g – 600g of salmon fillet ready. Bring out a large pan, and heat 1 tablespoon of olive oil over high heat. Start cooking the salmon with the skin side down, then cook all the sides evenly under medium heat for about 2 minutes – note the change in color of the salmon as you cook.
After you got all the sides of the salmon a chance to cook, turn off the stove and cover the pan, then let the salmon fillet cook for an additional 5 minutes as it cooks with the residual heat from the pan.
The next step is to season the salmon. Start by discarding the salmon skin – or save it for later if you prefer. Then grab a fork, and as you flake the cooked salmon fillet, sprinkle a half teaspoon of nutmeg, a quarter spoon of cayenne pepper and a few drops of Worcestershire sauce over the fish. Make sure to flake the salmon fillet evenly! Afterward, take those clean jars we mentioned earlier, and divide the salmon flakes evenly among them.
If you prefer a pre-skinned fillet, you can also order our Skinless Salmon Fillet online on our website.
After the salmon flakes have been divided into the individual bowls, it's time to pour that filtered butter you prepared earlier!
Once done, sprinkle some cayenne pepper and seal the jar for at least 4 hours. Then you're ready to serve those delicious potted salmons for your guests when they come over for Christmas this year!
Puri Pangan Utama is the trusted food distributor based in Bali. We provide ingredients for our customers and business partners. Learn more about our food selections by visiting our website!