Can Kefir be Used as a Substitute for Buttermilk?
The short answer is, yes. Kefir and buttermilk both have a similar level of acidity and fat composition. There are certain advantages and caveats to using kefir as a substitute for buttermilk, which we will explain further in this article.
First of all, let's get to know what kefir actually is, and how it is different than other buttermilk substitutes, such as plain yoghurt and acidified milk.
What is kefir and how is it made?
Kefir is a fermented milk product that was thought to have originated from the Caucasus Mountains, bordering Russia, Georgia, and Turkey. Although traditional shepherds make it out of goat or sheep milk, kefir can be made from cow's milk as well.
Milk for kefir is fermented not by lactic acid bacteria, as in the case for buttermilk and yoghurt, but by scoby (short for symbiotic culture of bacteria and yeast). The gelatinous scoby biofilm contains a richer diversity of microorganisms, in addition to lactic acid bacteria, such as acetic acid bacteria and yeast.
The milk proteins slowly curdle, and the milk is allowed to thicken as it becomes more acidic. The result is a creamy and sour product.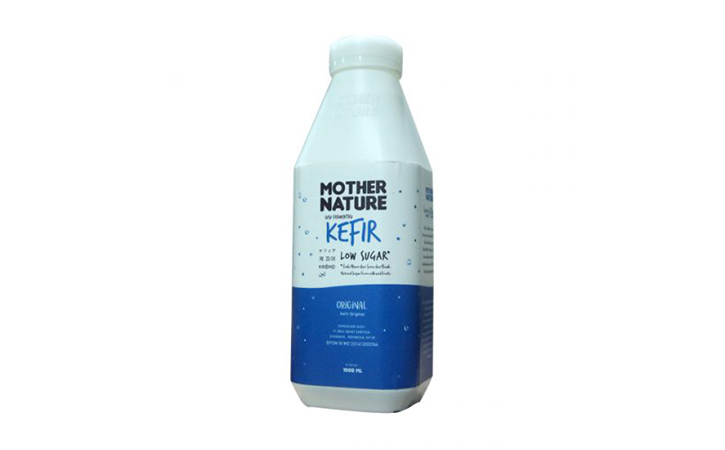 How is it different from buttermilk and other substitutes?
When milk is churned, most of the milk fat clumps together to create butter. While the low-fat milk is left behind. This low-fat milk is then fermented with lactic acid bacteria to create a cream-like liquid. Buttermilk is technically not creamy, since most of the milk fat has been removed.
Yoghurt is very similar to kefir. However, it is only fermented using lactic acid bacteria, without the addition of yeast. Is also known to be thicker in texture and has a 'sweeter' taste, making it a poor substitute for buttermilk.
Acidified milk does not offer the complex flavors of fermented milk. The milk is simply acidified with lemon or vinegar to thicken its texture. While it is often used as a buttermilk substitute because the texture is similar to buttermilk, it may not be appropriate for certain marinades such as döner kebab meats.
Conclusion
By far, kefir is the best substitute for buttermilk. It tends to have a higher percentage of milk fat, but for high-fat applications like buttermilk chicken and cookies, kefir may offer better taste for you.
Puri Pangan Utama Utama is a Bali hotel and restaurant food supplier. Learn more about our products.