Best Potato Fries Pairings
Whilst Potato Fry is often referred to as French fry, it may not actually be French. Some claim that fries originated in Belgium, whilst others say that it came from Spain. Regardless, the popularity of potato is largely accredited to French army medical officer named Antoine-Augustine Parmentier, who first championed potato as a food source, resulting in the name French Fry until today.
Straight, curly, crinkly, thin… You can do anything with a potato with some oil and knife work. However, have you thought of what type of potato fries go best with the food that you want to pair it with? In today's blog post, Puri Pangan Utama will share the differences between various types of potato fries and how you can best pair it with your meal.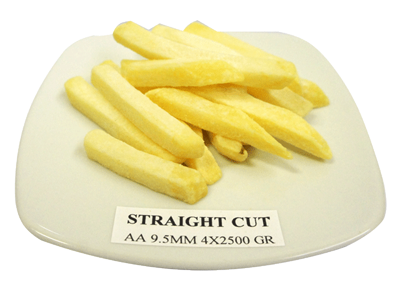 This is what most people usually think of when they think of French fries or potato fries – evenly cut and perfectly straight. Whilst some restaurants fry it once, others may double-fried to maximize crispiness. You will usually find this type of fries pilled next to your burgers or steaks. The thickness is designed to soak up the juice from your red meat when you want to wipe your plate clean. As long as you have something red on the plate, straight cut is usually your best friend!
Potatoes sliced very thinly and fried extra-crisp. Since the potatoes are thinner than other variants, this kind of fries often goes nicely when paired with various toppings, as the topping flavors can be maximized without being overpowered by potato. Examples of popular toppings include cheese, seaweed, and garlic. Experiment with it yourself to find your favorite combination! Tip: If you want to make sure that your shoestring fry is extra crispy go for coated fries from Aviko.
Crinkle-cut fries
Potatoes thick-cut on a corrugated slicer, then sliced into wavy batons before frying. Believe it or not, the crinkles are there not just for the look, but to add an extra layer of crispiness. As you bite into it, you will experience crunchiness thanks to the outer layer, followed by the taste and texture of soft, creamy potato. Since this type of fries is thicker than others, extra care is needed to make sure it is fried and cooked all the way – you don't want an underdone crinkle cut fries! You can never go wrong when pairing this hearty fries with your favorite tomato sauce or creamy sauce.
Whether you need straight cut, shoestring or crinkle cut fries, Puri Pangan Utama is the best horeca supplier to fulfill your needs. With over 30 years of experience as a food distributor that supplies to various hotels and restaurants in Bali, you can be assured that you will get quality products delivered to your door. Contact us today to end your search for potato fries supplier in Bali.